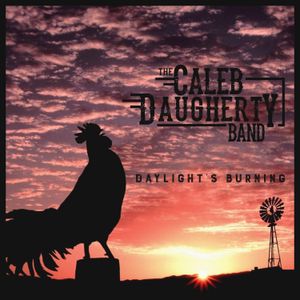 "A true country singer who knows how to pick great country songs. 
I predict Caleb will be a huge country star if that's what he chooses to do." – Lorrie Morgan 
Who is this Caleb that has earned Lorrie Morgan's high praises? Meet Caleb Daugherty, a 28 year old from Connersville, Indiana, who grew up in a musical family and was picking guitars by the age of 7. Leader and namesake of the up-and-coming bluegrass band The Caleb Daugherty Band, Daugherty has always been a fan of Lorrie Morgan's late husband, the great Keith Whitley. But Lorrie's praise isn't the only shinning star on this young musician's resume. In June 2016, Daugherty was not only invited by the Queen of Bluegrass Rhonda Vincent to join her and her band on stage at the Grand Ole Opry, but was also asked to honor his idol at the 1st Annual "Keith Whitley Tribute Show," sharing the stage with Lorrie Morgan, Darryl Worley, Kevin Denney and others. 
Last year The Caleb Daugherty Band released their first album Burnt the Sawmill Down, which featured Rhonda Vincent on the track "Going Through the Motions." Now, as we approach the end of 2020, this group of remarkably talented friends from Indiana – Daugherty (guitar), Zion Napier (mandolin and vocals), Kyle Clerkin (banjo and vocals), Zach Collier (bass and vocals) and Kyle Ramey (fiddle) – is back with a new single and today they are exclusively premiering "Daylight's Burning" with The Country Note. 
"Back in February (2020), Zion and I were sitting around the fire listening to music way into the early hours of the morning," explains Daugherty. "We were listening to old country and bluegrass trying to find some old gems that we could cut on our new project and I decided to play an album from The Boys from Indiana. That album led to us talking about the late Aubrey Holt (of TBFI) and eventually his son Tony Holt. It was not long into our conversation when "Daylight's Burning" came on and we both looked at each other and knew instantly that we wanted to record the song. We listened to it again and then at least another half dozen times! The song caused a flood of childhood memories for both of us and we really feel like it will do that to other folks, too. Our goal with recording "Daylight's Burning" is for everyone to experience the same nostalgia and happiness that we did and also enjoy the simplistic but genius writing of Aubrey Holt." Watch Caleb Daugherty talk about the single here. 
That happiness comes through immediately as the banjo picking and fiddle playing gets one's toes tapping, instantly bringing a smile to one's face.  But then CDB's impeccable harmonies come in and that smile turns into a "woah." 
Daugherty said their goal was for all who hear this song to experience the nostalgia and happiness that they remember from their childhoods. Not only did they achieve that, but even those who may not have grown up with Aubrey Holt's classic on rotation, will feel that euphoria. And after the year we've all had, we could definitely use it (and the biscuits, butter and blackberry jam too). 
"Daylight's Burning" will be released on Friday, October 30th and is available for pre-order/pre-save here. 
For more information on The Caleb Daugherty Band, visit their website at calebdaugherty.com and follow them on Facebook and Instagram.
https://www.thecountrynote.com/in-the-news/exclusive-premiere-the-caleb-daugherty-band-daylights-burning/